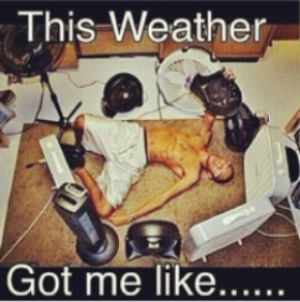 That's right folks the Sun is trending. Just when you thought it was safe to put away your daisy dukes and gladiator sandals, it looks like you may have to wait just a smidgen longer. In case you haven't noticed we are experiencing our annual end of the summer heat wave also known as "Indian Summer". Thousands of people have taken to social media to show the world how they beat the heat! Below are my top 3 ways to stay cool during the next few weeks:
1). Go Shopping. If you are like me and ballin' on a budget then go window-shopping. The mall has free AC, food, drinks, hot guys and gals etc. Doesn't this sound a whole lot better than melting in your apartment? Thought so.
2). Eat Frozen Foods. The best frozen treat to make on a hot day is wine Popsicles. If you're anything like me and love a bottle glass of wine after a long day of work then this is the perfect frozen treat for you. It's super easy to make because all you need is wine or any alcohol, sticks, Dixie cups and a blender. Buzz feed has a pretty awesome list here. Oh, and if you aren't a drinker and/or you don't have access to these things, then use Kool Aid. You can make popsicles with that.
3). Find a Pool and Jump In. This is a free and easy solution to staying cool. If you're worried about someone calling the cops, don't. Listen Linda it's too hot they'll understand.